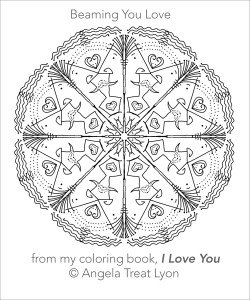 Have you ever wanted to keep doing something you love, but it just seemed like something was in the way?
I've felt like that. I couldn't figure out what what to do. Finally, I made a very simple, very powerful decision: that I'd let my intuition and connection to Spirit guide me more than ever.
And what did my inner guidance say when I bitched and moaned when I started missing what I had been used to doing?
It said, "patience." And I said, "Hm. OK – well, that's easy for you to say, but I miss my peeps and I need something to DO!"
It said, "paint, draw, books." That was it – simple, nothing fancy.
So, since I had just found a new kind of ink that was absolutely amazing and awesome fun to use, I started there. I did over 100 (small) paintings in about a 2-month period. Some were horrible, a lot were fantastic. And then, zap! The energy for that disappeared.
So instead of whining about why I wasn't getting inspired anymore for these paintings, I asked, "OK, what's next?"
And Spirit replied….
I was moved to take a class on how to use photoshop in a new way to illustrate books. The idea to write and illustrate a fairy tale book came right out of the blue. I said, OK, I will. And I did, and it was way fun, so I did another, using this new method to tweak my illustrations. I published them using print-on-demand publishing. They were beautiful, and it was such great fun.
People like them and they continue to sell – and – I have moved on. That's the cool thing about books – you write and publish them, and the books stay ready and able to help or entertain people in the background. Passive income can't be argued with, either.
Again, I asked, "What's next?" And Spirit replied….
"Take this class on creating coloring books."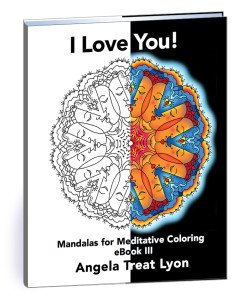 Coloring books? Are you nuts? Well, OK. I did. And – oh my. Fun isn't the word – try mega-master-monster-huge-incredible fun! A whole new world opened for me!
So I did one, then another, and a third…and a fourth…. I've created over 1000 drawings and published 7 coloring books (two of them hot steamy erotic ones! hah!). That's amazing for me – I usually paint or carve, but hardly ever draw.
Then, I saw how I could use the same drawings for other stuff – like pillows, totes, leggings, duvets, even fabric, wallpaper, wrapping paper – you name it. Oh boy – more fun!
Listen to your inner guidance!
Can you see how listening to spirit got me into something I adore and have tons of fun at – and can actually make some dough at it, too – and never let me down?
Instead of whining about why you're not getting inspired anymore for something, ask, "What's next?" And Spirit will whisper something to you, the way it does with me.
Listen more deeply
Something else – when I first decided to expand my connection with Spirit, I also committed to listening more deeply, and >taking action immediately< on what I heard – not putting it off or ignoring it. That made a huge difference.
So if you're at a standstill, or about to go on a new adventure, or wanting to boost your adventure to a higher level, maybe your deep inner guidance knows something you don't.
Trust it. Ask it what it wants for you.
Because it's doing its best to aim you towards the fulfillment of your heart's deepest desire.
Allow it, and watch and appreciate as the magic unfolds right before you in your own life.
When asking for guidance, what do you hear?
The answer should be short and fun and easy – no fancy or huge earth-shaking or people saving goals. Just small things, each of which stack up with the others you've done to suddenly be a Big Thing you've wanted to do for a long, long time.
Down the road, after you have asked and done as your inner guidance has said, I'd love to hear what you're doing that hits the Deep Spot of fulfillment for you.
You know I love you!
Aloha –
Angela
p.s. I decided to make a list of all the things I've done this year (below). I'm blown away – I never thought I'd ever do as much stuff in ten years, much less one!
I'm also giving you the link to the class I took on coloring books – it's the best class I've ever taken from anyone. He's a no-fluff, amazingly smart and  knowledgeable teacher, and we have an incredible FB page where we participate every day. (Yes, it's an aff link. I'm proud to share it.)
If you're an artist, I suggest you check it out – you might just find yourself a new stream of income you never thought possible. I love my monthly amazon payments!
If you're not an artist, check it out anyway – he tells you how to make books even if you're not arty at all. Just in the intro video alone he shows you some awesome info.
What I've done this year:
(Sounds like my English teacher's request for stories about "What I did this summer"! Can you hear me laughing?)
•  Created 100+ alcohol ink paintings
•  Created and published COLOR, the Collector's Edition, a huge (12" x 12" x .75") high-quality book with 60 pages showing my alcohol ink paintings that sells for $224.99 (think of it like this – if you bought all 60 images as prints, it would be $2300 plus!)
•  Wrote and illustrated 2 fairy tale books
Harlan and Griffyn Get Lost
The Big Bad Wolf Steals the Magic
TwistedOldTales.com
•  Created over 1000 drawings for coloring books
•  Created and published 7 coloring books (so far)
Delight (50 images)
Horses (15 images)
I Love You (50 images)
Simplicity (50 images)
Wild Things (50 images)
Erotic:
Lovers (30 images)
Play with Me (30 images)
ColoringBookQueen.com
What about YOU?
So. Do you see how allowing my inner guidance has enabled me to do more stuff in one year than I'd have ever dreamed, myself? And there's still a month and a half of the year left!
What would it be like if you allowed your Inner Guidance to speak up and guide you even more than it does now?