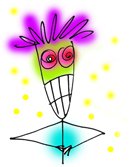 Today I had a panic attack. It was a huge shock to me, since I haven't had one in over 6 years.
Here's how I felt – ever felt like this?
•  My heart was pounding its way out of my chest
•  My hands were hot/cold/clammy,
•  Fear-thoughts were raging at a million per second with no discernible logic or resolution,
•  A giant's hand gripped my belly and
•  My knees felt as if they'd collapse if I walked an inch.
•  I felt like there was no way to solve the problem
•  I almost felt like I could keel over and die if it got more intense.
But in 20 minutes or less, I turned all that anxiety into a miracle, and walked away laughing.
In the past, I'd have continued my freak out for weeks. It would go deeper and grow into full-on depression, shame and disappointment.
Not even close, today – not even. 20 minutes at the outside, if that.
Here's why:
I know now how to recognize what's going on with me and how to stop the panic attack.
I also know now a way to stop the fear from taking energy away from me and make it feed me energy in a clean, uplifting way.
And I know now how to avoid the silent killers that lurk everywhere in our environment that trigger the attacks…everywhere you look, there's a trigger that you may not even be aware of.
And lastly, I've discovered what food, herbal and nutritional supports also help panic and anxiety stay away.
So I thought, heck, how many are there out there who'd like to know how to take this seemingly life-threatening thing and turn it around? Is it you?
How much better would your (or your loved one's or friend's) life be to finally not go around in constant concern that you'll feel suddenly paralyzed on the spot with harrowing fear and anxiety?
If you have never had an anxiety attack, you can't even imagine what it's like. It feels like the end of the world, with no answer in sight. You're all alone, feeling completely powerless and helpless.
So I created some openings for you who are just sick and tired of freaking out and want to find out how to turn your panic, anxiety or terror into miracles, like I did today.
>>> I'll even share with you what happened to me so you can laugh with delight like I did, too.
I invite you to join me for a 60-minute get-relief session. Once you see what to do, you'll never be caught out again:
Avoid internal triggers that make your fear worse
stop invisible emotional triggers
avoid environmental triggers
stop medical triggers you're probably not aware of
So you can increase your:
health
vitality
confidence
self-assurance of safety
energy and creativity
free time!
How much time have you wasted because of anxiety or panic?
How helpless have you felt as those attacks nailed you down?
How humiliated have been by your attacks in public?
How many hundreds of dol.lars have you spent trying to find an answer?
Wouldn't it be awesome to be free of all that?
Click here for a direct link to the end of your panic, anxiety, fear or terror – $99 is a miniscule nothing for relief from years of panic!
Grab yours now because there aren't that many spots. When you get your thank-you email, you'll see how to get scheduled so you can get this handled ASAP.
In our time together, I'll also show you a couple of online resources that will surprise you.
Please don't go one more extra second freaking out and feeling like there's no answer, or that it might last forever, or even kill you (that's how it felt to me – fatal).
I want you to learn how to laugh when you're beset with what seems like dangerous high energy – and then create your own mirac.les, too.
Remember I love you –
Angela
p.s. Major thanks to my dear friend Rebecca Marina who always supports me generously when I need it most! She helped me tap today, and gave me ideas and resources that helped me tremendously.