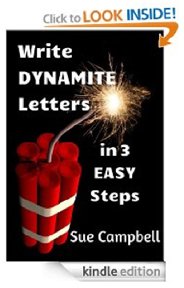 I'm so pleased and excited to be able to tell you that one of my Kindle Course students, the amazing Sue Campbell, just wrote and published her first Kindle book, "Write Dynamite Letters"!
She even finished it lying in bed in the hospital with a broken hip – pretty courageous and determined!
Woohoo! So proud of her! It's here – check it out: tinyurl.com/Sue-Campbell –
If you have trouble writing powerful letters, you might want to even buy it!
In case you don't know, when you publish your book as a result of the Create Passive Income with Your Little Kindle Books Course, I do a major shout-out to all my FB friends, and my entire list, so they can have a boost in publicity to about 10K people.
I also get the others in the course to do the same, because that what they'll get, too, once they are published. It's a win-win-win!
We'll do the same for you and your book when you get yours done, if you sign up for the Create Passive Income with Your Little Kindle Books Course.
I show you how to write a little book FAST, and then use the same Marketing Wheel I invented that integrates all your marketing efforts – including your:
•  emails to your list,
•  freebies,
•  both print and ebooks and Kindle books,
•  social media of your choice,
•  speaking engagements
•  videos,
•  teaching & teleclasses,
•  products & programs, etc. –
into a powerful force for Good where you use your knowledge and expertise to serve your preferred audience.
MORE IS THE WORD
You'll have even more impact on more people and make more money so you can do it some more and feel great!
The Create Passive Income with Your Little Kindle Books Course starts March 6th, and it's only 79 bucks for a powerful 6-week immersion – are you ready?
Do you dare come out of your shell and start writing and serving people on a higher level than ever?
WhY IS MY course any different from the others out there?
BECAUSE I show you how to combine what you love, who you love to work with, your passion for what you do and your writing and marketing into an easy system.
We TAP for inside traps and fears and doubts to help you stay on track. Who else does that?!? No one that I know of! Come on!
MonthAfterMonthMoney.com/teleclasses
Remember I love you!!!
aloha –
Angela
.