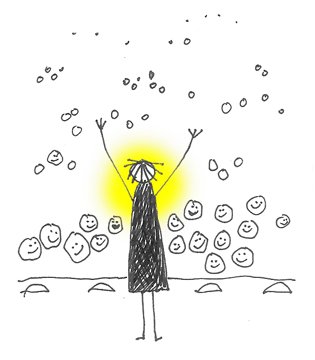 How do you reach over a million people on LinkedIn without stressing out, working like a slave or busting a gut in the effort or seeming hypey or spammy?
The other day, I went into my LinkedIn account to look at the stats.
I was just curious as to what had changed over the past year…and I was stunned when I started adding up the numbers of people I had a potential to reach: 1,150,522, to be exact.
How had I ever done that??? I almost fell off my chair!
I looked at the stats a bit more, and realized that most of the expansion was within the last few weeks. What on earth had I done that had made such a huge difference ?
I finally realized that two small things I had changed lately were responsible. And I'm talking very small changes – but changes that, nonetheless, had gargantuan impact. I'd like to share these 2 small changes with you, so you can make them too.
Because it will help you reach a staggering number of people who are in your market and just waiting for you to show up!
And it will help people locate you, know about you and your biz in a flash, and make them want to connect with you, too.
So – I've set up a teleseminar so I can share with you what I did (and I'm making it outrageously inexpensive, so you have no excuse not to get it! How does $9.98 sound? Can't beat that).
How to Make 2 Small Tweaks to Reach Millions of LinkedIn People in Your Intended Market.
You'll definitely want to get the audio, because you can literally change your reach from hundreds or thousands to millions by taking a few minutes to do these 2 things and do it right.
If we are going to make a big difference this year in the world of conscious entrepreneurship, this is one way to expand our ability to do it.
That's why I'm making it so completely inexpensive – because everyone who serves and wants to make a difference and improve our world needs it.
The 2 little tweaks I'm going to show you:
•   How to mega-maximize one simple line in your profile – because it shows up where you least expect it, and can make or break your chance for a connection
•   That one change will help you and your biz become way more attractive and magnetize more of your perfect-for-you potential clients…
…find scads of new allies and supporters
…create tantalizing entries your market can't ignore
…and find and meet celebrities and top-level winners in your market to play with and do JVs with.
Once you connect with these new people:
•   your business can grow faster & more robust
•   you can make more money & feel more financially successful and secure
•   go to sleep at night feeling like you're Doing It Right
Get the Audio for ONLY: $9.98
http://37.22trms445.PAY.clickbank.net

You can use Paypal or your credit card.
Yes, it's a super-low fee – AND…you'll be surprised by the powerful results you'll get when you make these tweaks right!
SURPRISE:
You'll be able to use the first tweak I'm going to tell you about to great effect on your Twitter and Facebook accounts…and…I'm going to show you one of my top secrets for creating crowd-pulling headlines!
GOT A LINKEDIN ACCOUNT?
In order to benefit from this teleseminar, you must have a LinkedIn account so you'll be familiar with what I refer to on your LinkedIn Profile page. I suggest that if you don't have an account yet, go there and set one up right now, even if it's all you do at the moment. Be ready!
Get the Audio for ONLY: $9.98
http://37.22trms445.PAY.clickbank.net
-=-=-=-=-=-=-=-=-=-=-=-=-
You will get a receipt from ClickBank (CLKBANK*COM). If you need to contact us, please email Lyon at AngelaTreatLyon.com (no spaces, use @ for at).
-=-=-=-=-=-=-=-=-=-=-=-=-
NOTE: I can show you how, but it's up to you to take what I give you and use it. So I cannot guarantee millions of people to you – you're the Prime Mover in your business, so – I show you – you run with it!
.