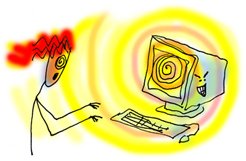 In internet marketing, we see conformity all the time – one guy comes up with a "formula that works," and all of a sudden, everyone and his left brother has similarsqueeze pages, opt-in boxes, videos, fancy freebie-giveaways, and so on. It all looks the same after a while!
Well, I object. I like it simple. SIMPLE. So I don't teach you to make forty freebie videos, fancy websites with fancy graphics or complex opt-in systems. I say make it simple.
Please don't think that in order to be successful online, you have to create 3 to 5 freebie videos with all kinds of great advice on them, and end up with a super-duper, long, expensive course you promote.
Let the ones who really love to do that do that. If you don't love to do that, don't.
Do what YOU love to do. Whether it's
emails, audios, drawings, power-point presentations, live speaking…writing books…whatever it is, please make sure that the I-Love-Doing-This factor is high! And if the marketing isn't your love, get help!
In line with that, I've created a Simple, No-Nonsense, No-Frills Summer SALE of some of my very best, most popular courses and teleclass audios.
No multiple videos, no convincing, no fancy stuff. Just good, solid information (and some really dynamitetapping) that helps you rock and roll right into success the way you want it. Here's where you can see, like, and treat yourself to the Goodies:
Simple:
http://EFTBizSuccess.com/0711/0711-big-sale.html
Every one of the things I have on sale will help you build your business, build your confidence, save time, be more productive, help more people and make more dough.
Go for it –
http://EFTBizSuccess.com/0711/0711-big-sale.html