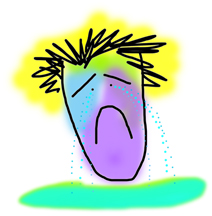 During this last two years, I've watched closely as I and many others have lost income, gained way too much weight, lost our health, got horrifically off track in biz, and felt generally unfocused, exhausted, uninspired and discouraged.
I decided I'd had enough!
(Impatient? Get the zoom webinar HERE)
I was tired of feeling tired, too exhausted to do a single thing. No matter what, things had to change, or I might as well give up and go be a Walmart door greeter.
A MONUMENTAL SHIFT
Since being a door greeter is very definitely not on my list of desirable things to do in my life… instead: I set up an experiment, and I set a time frame of one month to see how it would go.
Here's what I did (am doing):
ONE: No more sugar! My head felt like someone had filled it with mushy concrete. I was eating too much sugar (have some coffee with that sugar, anyone?), and was seriously insulin resistant.
So I stopped using it. At first it was iffy, and I really really wanted it.
But my clarity of mind, which I had been sorely missing, increased every day. The longer I stayed away from sugar, the easier it got, and the more I now enjoy having a sharp mind again.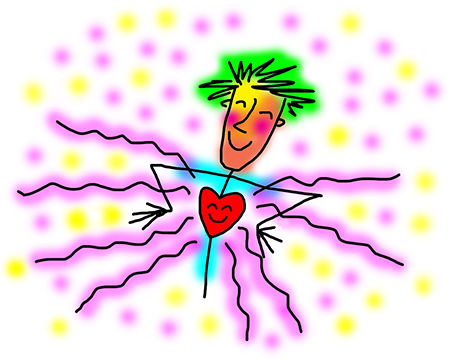 TWO: Re-focus. And this was sooo hard! – I did a monster pivot: I stopped banging my head against the wall, worrying because people weren't buying enough of my art to make it possible to even pay the rent.
I re-focused my attention on the other major thing that brings me joy – coaching.
Because there's nothing like seeing people light up when they really get it that what they thought was 'negative' energy is really powerful creative energy they can now use … without fear.
THREE: My Five Keys. Because I still get distracted and lose focus, I put together five major keys that help me clue in to determine where to go next at any time.
FOUR: Quick trix. I developed a series of very simple, very fast (only a couple minutes long) processes that help me get present, grounded, focused and productive.
And a couple more that can be used to reduce anxiety, get to sleep (a biggie!), and regain mental clarity.
And one for creativity that will knock your socks off.
AND NOW?
Well. It's been a hair more than a month, and I can tell you right off that every one of those things has worked powerfully.
I'm not perfect – I do fall off now and then – but so far, have never been off track more than 24 hours. It's been well worth it – I shall continue implementing the changes I set up.
What if you could get off the same-old, same-old
'this is how it is now' carousel that goes nowhere …
but wears you down every. single. day?
AN EXPERIMENT!
I want to share with you:
… how I stopped eating something I've been addicted to my whole life,
….without all that much trouble…
… how to get clear in a flash
… how to shift from fear to excitement and inspiration…
… how to change your mind about anxiety
… and way more –
I invite you to get the 7 shorty videos (90 minutes total) where
I show you HOW to GET YOUR ENERGY BACK!
I demonstrated the things I'm doing myself, and more, so you can try them out in your own experiment.
Get the videos HERE for just ten bucks
(yep, $10. I want you to have this information!)
If you want to:
… start getting your health and energy back
… live a life of purpose and meaning
… be the Creative Boss of your life –
… feel a solid connection again with the Eternal
… love yourself and your life again – or maybe for the 1st time ever –
Come on along!
It was great fun being with the folks on the webinar! When you watch the videos (one hour total), you will see how to take a situation or issue you had previously called 'negative' and transform it!
GET THE BOOK!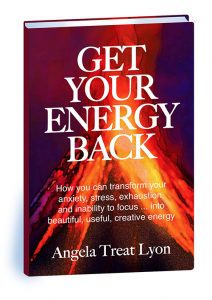 Click HERE to get the EBOOK – $5 OR pay what you want
Click HERE  to get the Print book – $19.99
Now you'll be able to create and develop new neural pathways in your mind/body system, so you can start feeling good, and feeling good about feeling good!
You can finally come out of the morass of the confusion and fear of the last two years, into curiosity, inspiration and delight with yourself and your life.
You know I love you!
aloha –
Angela
p.s. JOIN ME!
I have made the videos super affordable: ten bucks:
GET the videos for just $10!

-=-=-=-=-=-=-=-=-=-=-=-=-=-
QUOTE of the DAY
You've seen this before, but it is SO relevant for these times:
"Until one is committed, there is hesitancy, the chance to draw back, always ineffectiveness, concerning all acts of initiative and creation.
There is one elementary truth the ignorance of which kills countless ideas and splendid plans: that the moment one definitely commits oneself, then Providence moves too.
All sorts of things occur to help one that would never otherwise have occurred.
A whole stream of events issues from the decision, raising in one's favor all manner of unforeseen incidents and meetings and material assistance which no one could have dreamed would have come one's way.
Whatever you can do or dream you can, BEGIN IT.
Boldness has genius, power and magic in it…BEGIN IT NOW!"
~ Johan Wolfgang Goethe
-=-=-=-=-=-=-=-=-=-=-=-=-
Angela Treat Lyon
EFTBooks.com (free EFT book, and more)
LyonArtandDesign.com (Prints & paintings)
AngelaTreatLyonART.com (Paintings & Sculpture)
-=-=-=-=-=-=-=-=-=-=-=-=-
All images and text © Angela Treat Lyon 2022
All Rights Reserved Internationally
Published by Out Front Productions, LLC