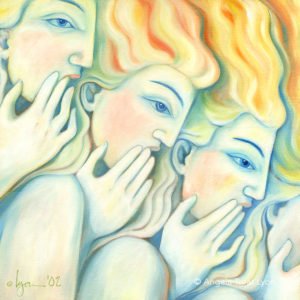 I painted this when I was Artist-in-Residence, down in Gore on the South Island of New Zealand.
I had a dream where these women were shocked at my sharing how cool EFT/tapping was.
I was shocked that they were shocked, and finally got them to see how important it is that we know how incredibly powerful our emotions and mindset are.
This is FOR THINE EARS ONLY – oils on canvas, 18″ x 18″