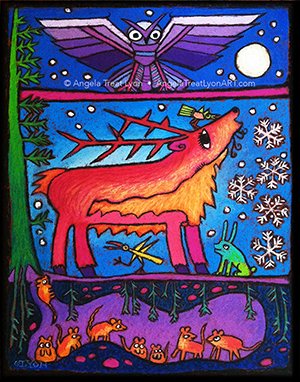 Art always makes me feel better. Like somehow, I'm Doing My Life Right.
Maybe it's because I go into a trancey kind of out-there in-there smooth, calm, non-thinking zone state while I'm creating art.
Maybe it's because when I see those bright colors something grabs me deep in my heart, and says 'life can't be ALL bad when brilliant colors like that are alive and well!'
And maybe it's just because it's a realm in which I feel utterly comfortable, and able to run around like a mad woman and just bloody well have fun.
Who knows? And really, who cares why? I don't! I just wanna have fun.
I hope you like Rascal with his pointy antlers and his silly above and below-ground buddies!
RASCALLY REINDEER & BUDDIES
Original, pastels on paper, 12″x9″
Both original and prints are available
Contact me if you want to add it to your collection.