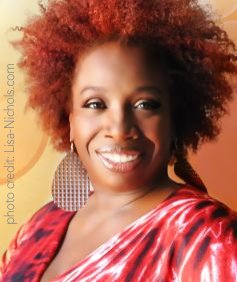 Lisa Nichols, of The Secret & Chicken Soup for the Soul
You no doubt have heard of the movie, The Secret. Probably old hat by now, right?
Well, lucky for me – and you – the people IN The Secret – like the amazing and incredible business and teen-advocate, Lisa Nichols, aren't old hat!
I invite you to listen in as Lisa Nichols shares what it was like growing up with more liquor stores per block than churches, stores or schools, bottom-of-the-well self-esteem, and an abusive fiancé.
And how she woke up and got herself O-U-T….Out to the point where she was asked to be the ambassador to … well, you'll find out. Pretty awesome.
Go here: IDareYouRadio.com at 2pm NY time tomorrow, Wednesday February 29, and click the ON AIR button in the middle column.
Note: Last week, the radio network got the timing wrong, and didn't air my show until 2:15 – so if for any reason you don't hear my dulcet tones at 2pm, hold on and give it a few, OK, because I know you'll enjoy Lisa!
(If you can't make it, that's OK, because you can click on the little IDYR icon under her photo, and go right to the audio.)
You can even get her book No Matter What there, if you should so desire.
.