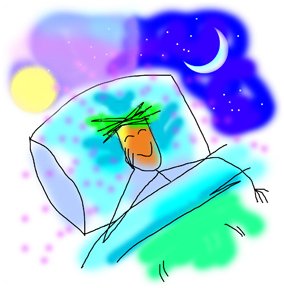 Last week, I had three dreams three nights in a row. I wouldn't ordinarily share them, but they were so powerful and so relevant to the times I thought maybe you'd appreciate hearing about just one of them.
A backyard – simple, grass, swimming pool…I was standing on the flagstone patio by the pool.
There was a big silver vault, kind of like a marine decompression tank, next to me on my left, with a line of people who were waiting to go in extending for miles over the horizon.
I stood and watched from the side as each person went in and locked the massive door. I heard a rumble and other strange noises, and after about 45 seconds, they would come back out again…except for some.
When those people went in,
there would be a huge earth-shaking rumble, the door would POP back open, the person flying through the air towards the swimming pool. But they would never make it that far – they would literally explode a few feet from the door, shattering into less-than-molecule sized pieces, and disappear.
As that explosion took place, with each one – and there were a lot! – I heard a deep baritone voice announce, "THIS IS NOT MY SON!" or, "THIS IS NOT MY DAUGHTER!"
Whoa! "OK," I thought, "I wonder what it would be like to go in there! Will I get spit out, too?"
So I walked over, opened the door and went in.
I was surprised to see another person who looked just like me in there! She said to me, "not to worry, we know who you are." And she put this little gold star – like the ones you get in school for good papers – remember those? – on my third eye, and it soaked right into my skin and disappeared. Then she opened the door and let me out.
Boy was I freaked – even though she'd *said* I was OK to go, I was still nervous that I'd pop and blow like those others! But nope, I was fine, and walked off with this inner glowy feeling that hadn't been there before.
Some dream, eh?
I was thinking about it and the other two that were almost identical except set in different scenes, and I was struck by one word: authenticity.
In this fast-paced, speed-laced, time-demanding world, I believe that it's more than ever needful for all of us to attempt to be as much aligned with our true essence as we can be.
To me, that means remembering our values in any game in which we are involved – in any business, any relationship. Asking ourselves, how can I play at my extreme best? Because people get it when we're not playing from who we really are. They Know. I know, you know, they know. And don't like it. And spit the ones out again who are not authentic.
Be authentic. We know and love you already! We want the Real You.
-=-=-=-=-=-=-=-=-=-=-=-=-
© Angela Treat Lyon 2010. Do share this; please include entire, unaltered article with all © info – thanks! I love you!