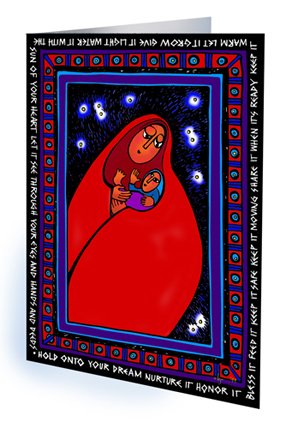 This year, I'm having five images of my artwork printed for holiday cards.
(The image you see at the left is one image I pre-ordered to see how it looks – it's awesome!)
It sounds early to think of that, but it takes time to:
1. get them printed
2. have them sent to me in time to market
3. mail them out to you in time for you to send them.
So, I have to decide right now which ones to use.
Would you please do me a big favor and pick five images you'd want to use as holiday cards?
Which ones, in your opinion, would send the biggest message of inspiration, joy, renewed life, happiness and love to the people you send cards to over the holidays?
If you don't send Christmas or any of the other religion-based cards, which ones would you send to celebrate and bring in a happy new year (that's what I do!)?
Here's where to find them: PrintsbyLyon.com
Your feedback is really important to me, so I hope you'll do it right now while you're thinking about it. Just choose five, take note of the image names, and email me at Lyon at AngelaTreatLyon.com.
Whoever chooses the image most picked gets a FREEbie thank you – a downloadable, high-res poster!
NOTE: I decided that this year I'd use a different printing company, because the cost is lower, so I can offer the cards for less than what you see on my site.
I just pre-ordered some cards to see what the quality is like, and I'm really thrilled with them. The paper is nice and heavy, the colors are brilliant and the printing is crisp and clear.
They're 5.5″ x 4.25″ – a little smaller than the usual greeting cards – and come with blank insides and white envelopes. They will be $3.59 each, and $35 for a dozen, plus S&H.
Thanks so much for helping me out! Wait till you see how gorgeous they are – you're going to love sending cards this year!
Here's where to CHOOSE: PrintsbyLyon.com
Remember I love you!!!
aloha –
Angela
p.s. PRE-ORDERING!
If you really love any of them right now and want to pre-order, just let me know which ones you want. Thanks again! Order your choices here: email Lyon at AngelaTreatLyon.com with the names of the images you want. (Preorders: Sets of 12 only.)
Here's where to find them: PrintsbyLyon.com
.