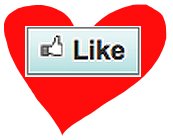 Do you have a 'Like' button function enabled in your blog or website?
This is an excerpt of an article by Cris Crum at WebProNews.com I enjoyed today I thought you might want to read – read the rest of it here.
"…Like buttons get 3 – 5 times more clicks if 1. versions that show thumbnails of friends are used, 2. they allow people to add comments, 3. they appear at both the top and the bottom of content, and 4. they appear near visual content like videos or graphics. He looks at a specific example with Metacafe, which originally had a Like button at the bottom of its videos, but after adding one to the top in addition to it, tripled its number of daily likes and doubled its amount of referral traffic from Facebook."
One like button added to the top as well as the bottom tripled the likes and doubled the traffic. Pretty powerful.