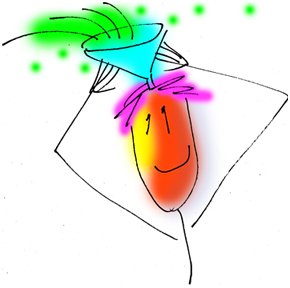 A week or so ago I proposed bypassing instead of fighting evil.
Many of you wrote enraged, saying 'we should fight it forever,' that we should not go into denial or lala land about it, and other such comments.
Please understand, I don't condone evil!
When you walk into a dark room, you don't stand there and say, "it's not dark!" And you don't have a fist fight with, make laws against, arrest, raise sanctions against or bom.b the dark, do you? No! You reach over and turn on the light!
Obviously in the 'real' world it seems more complex than that, but you get the concept. How do we do that, though? How do we reach inside and turn on the Light?
If we are all One, there's only One of us here. So the only One to work out the kinks in is – you guessed it – the one who is experiencing.
Remember that quote that goes around: what you give your attention and your energy to expands.
I believe – and have seen, over and over again – that when we concentrate on 'working' evil, mal-intent, rancor, jealously, resentment and other vibration-lowering thoughts, habits and activities out of our own lives, it's hard! We keep getting sucked in by it. It's a spiritual shadow fight. How exhausting.
But when we focus on adding more to the light in the world? Much easier than going to war with the dark.
I also believe that our Sacred Task is to make way for as much Light as our minds and bodies can hold.
Where can evil reside if we fill ourselves with Light?
What do you think?