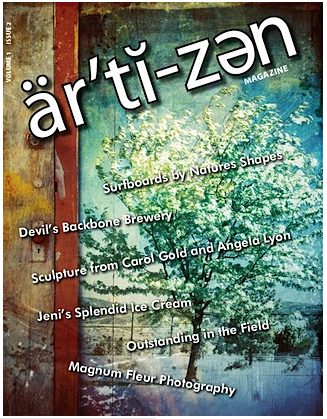 A few weeks ago, Cindy Marks, who owns and runs Artizen Magazine (a FREEbie online magazine about artistry across the board: cooking, art, software, you name it, as long as it is done artfully) contacted me.
She asked if I would help her research and write an article about outdoor sculpture. Of course I said yes, and actually ended up interviewing one of my favorite artists – Carol Gold, who does delightful bronze sculptures of people and critters – and gathering the article contents, myself.
I heartily invite you to read the magazine article and see the great 5-page (!) layout we were given for it!
http://artizenMagazine.com – look on pages 33-39. You'll see some of my own work there, as well. You may even want to get onto the mailing list.
And if you are at all curious about how a sculpture can go from wax to bronze, why water, winter and stone carvings don't mix, or why Carol's first adventure with doing monumental sculpture almost destroyed her desire to do others, here's where to listen to the interview:
http://idareyouradio.com/carol-gold-bronze-sculptor
And there's a link in the article that takes you my article on her as Featured Artist at the International Association of Women's Sculpture so you can see more of her fabulous art. I hope you enjoy it all!