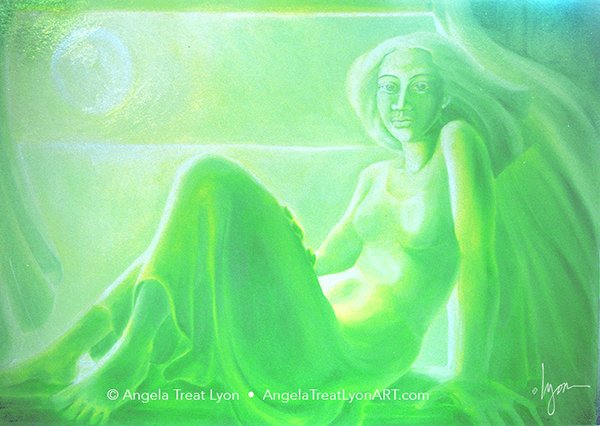 After I got back to the States from New Zealand in 2002, I was filled with gratitude to be back in Hawaii again. I wanted to do a bunch of paintings celebrating the culture, and yet not be blatant, touristy-looking hawaiiana-ized.
This was the first of the series. Each one was underpainted in various colors, so when I painted over those colors, I'd get a glazed effect..
On this one, I liked the underpainting so much I kept it as is, without painting anything else on top of it.
I think one of the things I like best about it is the feeling of her physical strength and fluidity, playing against an emotional fragility – she's unsure, yet the light streams in and fills her.
Emotions kind of like where we're at right now. We are all so unsure – and yet, we still have deep hopes for a much better future.
Well, maybe not everyone feels that way, but I do.
Original was 24″ x 30″, oils on archival art board