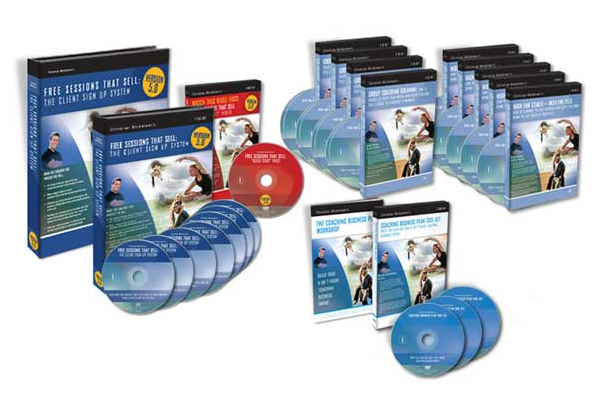 ALERT: I have one copy of master coach Christian Mikelsen's $2000 client-getting program (click on the image to enlarge).
The first person to email me (Lyon at AngelaTreatLyon dot com) gets it for only $1750 (and I'll cover the shipping), as well as the link to the forum where you can hang out, talk with and practice with the other coaches Christian is training.
You'll find the coolest things in it – I did – I never knew how to do half the stuff he teaches you, because not one of the coaching training I ever did had marketing training included.
Here's what you'll learn from these great CDs:
How to use free or low-cost sessions to meet & sign up new clients
How to do the short session so the client sees the value of the coaching and asks you for more
How to NOT overdo the session and why
How to set your fees up
How to ask for your fees
What to do if they say I can't afford it, I have to think about it….
How to set up long-term sessions
How to get them into group sessions if they don't do long-term
A notebook with cheat sheets for your freebie sessions
Client agreement forms
Learning Guide
2 tickets for Christian's big live event (value 4,997)
and more.
I've checked out and used this system really carefully, because I wanted to see if it worked, and if I could increase my clients the way he said you could. And I did.
I also studied and practiced his system in a very intensified way because I also wanted to see if I could recommend him – I wanted to find someone who could take my place as a coach's coach when I transitioned into doing more artwork. And I'm happy to say, yes, I recommend him and his system.
His Client-Getting 25-CD/DVD set comes with a notebook binder and laminated cheat sheet that helps you with your first sessions – what to do, what to say, how to ask for your fees, when to quit, and more.
He even gives you a deal-with-money-fears set of CDs that are just terrific.
I can let the set go now because I've studied it well and taken about all the notes I want, and I'm happy to say, "go study with Christain – he can do a better job of showing you how to get more clients and get them coached than I can.")
If you want more clients, less hassle; and more money for less work, I invite you to jump on this and mail me right now and you can save 250 bucks off what he charged me. Lyon at AngelaTreatLyon dot com. I'm taking this down the second it's claimed, so don't wait.
And if you don't want this set, go to the next post down on this page to find out how you can get all the goodies from Christian in his brand new program.