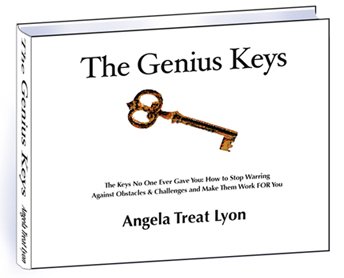 A few of you wrote me asking if you could tell your stories in The Genius Keys – how you made the leap from down and dirty to leapin' and dancin.'
OK, twist my arm! You now have that option, too.
You get everything the Gold 375 gets, only it's called Gold Story 575. You get more words for your story, which will be integrated within the other chapters. You also get a full listing in the In-Genius Resources at the end of the book.
Read more here, and scroll down to the bottom where you'll see the various options: TheGeniusKeys.com/be-in-my-book/how.html You will have to hit 'refresh" in order to get the most upidated version if you have visited the page previously.

You're story and/or biz listing is going to be alongside some pretty big names, so I encourage you to take advantage of the positioning possible in this evergreen publication.
You know about positioning, right? That's how Avis got so well-known. They knew Hertz was #1, so Avis just said, we're #2 – and effectively cancelled out any others. Pretty smart. Ask yourself what getting better known will do for you….
SAMPLE CHAPTER:
I'm making a sample of The Genius Keys available on the page so you can see what the book is like, and how your listing or story might look like. Check it out – you'll see why I say that no one has ever done a book like this one.
Grab your place now so you can plop your story within the chapters and/or get listed in the In-Genius Resources:
TheGeniusKeys.com/be-in-my-book/how.html
WHAT'S YOUR CHALLENGE?
Oh – and remember to get your problem solved, too – the Graphic Designer who filled it in (thanks!) got coverage – check out the sample!
Here's where to list your challenge:
TheGeniusKeys.com/be-in-my-book/challenges.html
So. What's keeping you from amping up your success by getting your business, products and/or services more exposure to the world? Tap on it and get through it, because here's a great chance for you to get more steady exposure than you ever would in a simple magazine or newspaper ad!
Your comments are welcome!