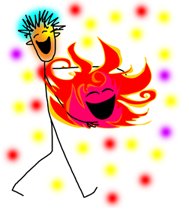 Recently, a friend sent me a long detailed news article all about how the APA (American Psychological Association) had once again refused ACEP's (Association for Comprehensive Energy Psychology) bid to get approval for energy therapies for continuing education certification. Very disappointing.
It would have been really easy to get upset about it – "why don't they see how effective it is, what were they (not) thinking, when will it ever be 'normal' for energy practices to be accepted…."
BUT…in Dr. Mercola's newsletter this week, he speaks about how any innovation goes through 3 stages: people laugh at it, thinking it's crazy; violent opposition; and acceptance into the mainstream.
So, I figure that, since congress is past the laughter and mockery stage and is now on its 4th refusal, acceptance is close behind. Not long now!
How does that apply to you and your own life?
Have you ever thought up something that was so exciting to you that you shared it with your loved ones and friends – only to have them laugh and tell you it was crazy? Or impossible? Or did they (mother, father, husband, wife….) violently oppose any thought of it happening – maybe even forbid you to do it?
Good!
Huh? Why good???
Because now you know you…
thought up something that has the potential to wake people up out of their everyday slumber!
Take heart, get support, and do it!
I'm here to support you in that – I can't stand seeing people barely surviving when they could be dancing and thriving. I hope you'll be with me this year as I live my own Dream, and as I do my utmost to support you in creating yours. It's going to be another 12-month Adventure!
And, because I do want to support you in bucking the odds and creating your Dream, I'm wondering what you'd like to play with this year. I have ideas for all kinds of classes and courses and such, but it would be better for you if you could tell me what you want that I can provide.
Here are the basic areas I can help you with:
•   Business Strategy and Success Acceleration
•   Marketing Online and Off
•   Writing and Publishing Your Book
•   Freedom from Emotional and Mental Garfoo – anger, pain, fear, frustration, depression, etc. – that affects your life, family, business, health…
Have you felt the energy this month? It's been like wading through hardened glue, and if this month is indicative of the rest of the year, I want to help you dissolve that glue so you can create, live and celebrate the Dream you love!
I invite you to go here and take this brief, easy 7-question survey that will help me know what you want: Success-in-2010-Survey
You'll get two (and possibly even three) dynamite Goodies as a thank you for taking it.
Thanks for helping me help you!
AND – If you'd like a chance to be chosen to win a $195 VALUE, 20-minute FREEbie Strategy Coaching Session with me, email me here: Lyon (at) AngelaTreatLyon.com. Write 'I Win' in the subject line. (Only open to people who have not worked with me yet.)
2. TAPPING RESOURCE:
Please visit the new EFT article library at: New-EFT-Articles and read 'em all. If you are a practitioner, get it together and write and enter your own! Let's make this article site a monster-resource for tapping!
EXTRA GOODIE: For some really terrific animation and a pretty good indicator of how we think, watch this: Pidgeon Impossible
3. QUESTION:
I've been asked to help promote Eldon Taylor's new book. Did you enjoy his last one? What do you think about these book promotions where fifty gazillion bonuses are included – do you like them and take advantage of them? I'll say yes if you think it is valuable to you.
Comments are open – thanks for your input!
aloha –
Angela