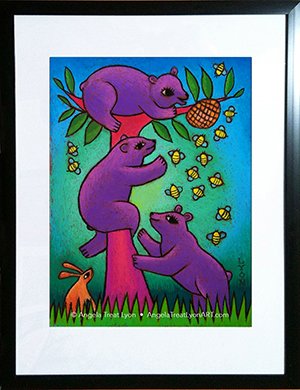 Someone asked me to do this one for her, as a gift for someone's baby.
The mom has three rambunctious kids, so I figured each one needed to have a bear.
And of course they are going for the honey comb, right? What else do naughty bears do?
(And Rabbit wonders how soon they will tumble out of the tree full of bee stings – but he's wrong, you see, because the bears and the bees have an agreement…)
This is the original, framed in a temporary frame to keep it safe from smudging or other damage.
If you would like it or a print, let me know – use the contact button to the left of the screen, or the contact tab at the top of the site. I return emails and notes lickety-split.
Original pastel on paper, 9″ x 12″, temp frame.
Prints available.