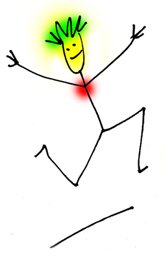 Have you ever wanted to say that? Just throw in the towel and walk away? I have. And it's always been a sharply defined moment that brings better things and options into my life when I actually made that choice.
When I came back to Hawaii from being the first artist in residence in Gore, New Zealand, I was so convinced that I had to find a job to 'tide me over as I settled in' that I took a job for the first time in over 20 years.
Imagine standing from 10 am to 5pm in the sizzling Waikiki sun, with only a half hour lunch break (and no food or drinks allowed win your booth), getting tourists to sign up for time-share demonstrations. For $7 an hour. Mmmm, fun! I don't THINK so.
I tried hard to make it work. I sat demurely at my booth providing tourist help; I experimented with working theidea of time share slowly into conversations; I finally ending up literally walking over to people and pushing the brochures into their hands. It was the essence of push marketing.
If I had any 'shy' left, by then it was gone. But I detested who I had to be to do that, and how I was doing it. I felt like an predator. I felt nauseous just thinking about driving in to work.
As I drove over the mountain on what was to be my last day, I had to pull over and run into the woods and be sick. Hello, Angela!?! Pay attention! At that point, I finally decided to honor my body and quit the stupid job.
Walking back to my car, I just started laughing because it was all so absurd. Instead of calling in 'sick,' I decided to call in 'well.' I told my manager that I was too sane to keep doing such brutal, demeaning, slave work.
It was an absolutely terrifying decision, because I had no idea where my support was going come from – I was still new back on the island, my friends of long ago had all moved away, I had no gallery to put my artwork in yet, no agents; my art site (that had never made any sales yet) and EFTBooks.com, weren't moving enough stuff to buy me lunch.
It may have scared the living pahooie out of me, but I knew I couldn't keep doing such soul-eroding torture. It felt like a life or death decision.
It was completely liberating to do it. The doors flew open. I started finding one profitable option after another, now that I was out from under the pall of the low vibe slave job, no longer thinking of myself as less-than, or 'having' to stay on despite the pain.
And now I'm making another choice:
In January, I told you I was making a wild left turn, planning an Adventure. I told you I was going to carve more and travel to sculpture events. I'm doing it!
It's been scary and exciting – scary to release the things I've been doing, yet thrilling to expand my Soul Work.
And I'm really hoping that as I do it, you can gain the courage and the inspiration to do it in your own life, too.
I've picked up the pace now – I'm carving every week, and have completed 5 new works*. I started the InternationalAssociationofWomenSculptors.com to help women sculptors make and market their work, and now I'm amping the energy up even more – you'll hear about it soon. * Lyon-Art.com (the 1st 5 in that section)
I had thought I was going to keep doing EFT classes, but have seen that I just can't stretch my energy as thin as it takes in order to be able to encompass teaching EFT stuff AND all the things I need to do as a functioning professional artist.
So, no more classes on EFT.
I'm focusing my teaching on the Round Table Tapping Group members. This weekend, they get the Forum opened, and they get my secret trick: how to get from absolutely stuck to 1000 miles per hour.
——–
Join the Round Table Tapping Group: here: $59.97 (3 calls mo.) http://bit.ly/round-table-tap-group
——–
In tomorrow's session (90 minutes) I'm also going to start the first part of how to make good mo.ney giving great teleclasses.
This starts tomorrow and goes into next week (and maybe the next session if we don't have time to get everyone's questions answered.
HOW TO MAKE MORE MONEY GIVING TELECLASSES
Here's what you'll get when you join us:
How to:
•   make excellent mo.ney giving teleclasses
•   determine who your real market is
•   finally find out what your niche is (and what to do when you can't decide between more than one)
•   get more clients & class attendees
•   develop your mailing list,
•   set up your teleclasses to sell your work without being a detestable pushy sales person
We cover:
•   which bridge lines to use,
•   which tech to use (and not get scared by your tech ineptitude)
•   which recording devices to use,
•   which editing equipment or outsourcing…
How to:
•   make your tele classes into multiple products
•   write the copy for your classes,
•   plan mo.ney-maker teleclasses
And you get detailed handouts that help you with your sequences and planning…. and much more.
I love the Round Table Tapping Group, because it energizes the people on it to really jet forward (and me, too!).
——–
Join the Round Table Tapping Group: here: $59.97 (3 calls mo.) http://bit.ly/round-table-tap-group
——–
WANT TO WRITE YOUR BOOK?
And I may even continue mentoring authors in writing and publishing their books. Haven't decided that yet.Email me if the idea of writing your book and publishing it tickles you. I'll see if I'm the one to help you.
MENTORING
And I'm keeping a few mentoring slots open. I'm blown away by how fast people are shifting into high gear – it's awesome.
So, if you want support making those life-changing, scary-but-thrilling choices, get support while while you can!
You'll find out how to make quantum jumps in life and business look like baby steps.
Now is a good time to sign up, because I honestly have no clue how long I'll have the time or energy to keep doing it – Coach with Angela – $99 (1/5th her regular fee)
I'm having a LOT of fun sliding back into more art, and I want to support you in the living and the doing of your Dream, too. I invite you to sign up here: Coach with Angela
Make sure you sign up as soon as you can, because otherwise you may be stuck on the waiting list. I'll keep doing the coaching as long a I can, but may one day just stop. Don't let yourself lose out.
aloha –
Angela