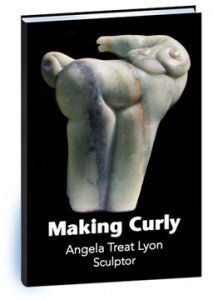 "How do you do it?"
"And what stone do you use? What tools do you use? Is that jade? Isn't it hard?"
I get asked those questions so often that I thought I'd put together a little report on how I carved one of my sculptures.
Turns out that Making Curly, the ebook I created as a result, is much nicer than a simple report – yeah!
Full of great pictures (about 30 in all), with explanations about the stone, tools, how I use them, and where I carve – have at it. How often do you get to step into an artist's studio and watch her work?
Just RIGHT CLICK HERE or on the book cover to download the pdf. It's a pretty hefty file, so it might take a bit if you have a slow connection.
DO NOT open it in your browser! It will disappear once you close the window! Make sure you download it all the way to your computer so you can open and look at it from there.
.
All text and images in Making Curly are copyright protected internationally.