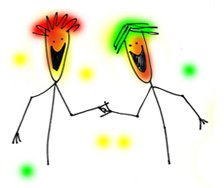 You know how 'they' are all saying how it's all about relationship building, not pushy sales? You'll enjoy this…
Last night, I sent a quick note to a big name in the coaching industry. He's an ex-teacher, so I thought he'd appreciate a couple of really glaring spelling goofs on his site. I mean, come on, payed? Strategys?
He emphasizes how he had held a prominent position in the education field, awards and all. But his very forceful copy and videos combined with the misspellings left me with a nagging feeling – I really hesitated over whether or not I'd want to either work with or promote him to others.
So I decided to do a little experiment. I wanted to see if he could come through with high-relationship-building points…after all, if I hired him as a coach, I'd want to have our relationsip be comfortable, right? I was disappointed.
Here is what he wrote:
"I teach my clients to always test and if you can believe it the copy with misspellings out pulls the proper spelling.
"Fyi…virtually no one ever comments on misspellings. They focus instead on our material and how helpful it is…
"Angela—you need coaching.
"I know you have talked with our office about coaching.
"Do what you can to come in."
Goof #1: So now I am 'virtually no one,' since "nobody ever comments on misspellings." Huh – here I thought I was someone….
Goof #2. Did you notice how his reply was all about him and his material, and had not one opening where I was received? Instead of thanks, it's 'our programs are great.' Disconnect.
Goof #3: Yes, I did contact and speak with someone at his office, but he still has no idea how much of his materials I have or have not accessed, yet he's telling me I need his coaching. He hasn't even talked to me or asked me what I'm looking for, how can he really know that, or that we'd even be a fit?
Goof #4: He's telling me what to do. Big mistake. You don't EVer tell me what to do, unless it's an emergency and you're a doc or an official of some kind.
In actuality, I have spent a lot of time looking at all of his available stuff – freebies, video testimonials, website copy, offers – over the past 2 weeks to see what he's got, what he does that's different, how he puts his systems together, how careful he is, his method of delivery, his tone of voice – all the things that add up to a choice as to whether or not I want to pile my money on his desk.
His reply was a real put-off for me. If he had been gracious, here's how it could have sounded:
"Thank you for your note, and for pointing out the spelling errors. I appreciate that.
(Make the writer or feedback-giver feel good, that s/he helped and is appreciated.)
"I'm actually aware of the errors, and decided to leave them because our testing has shown that the misspelled pages pull better than the ones with perfect spelling.
(I will NEVER believe this unless shown actual stats. Spelling errors make you look like a doofus. Especially if you claim to be an ex-teacher, and especially if they are right in your headlines! Yes, we all make mistakes, but surely you'd catch a headline error!)
"I'm not sure why you were on my site, but I would love to be able to assist you in finding exactly what you need to get the success you want. I invite you to consider coaching with me or one of my high-results coaching team.
(Tell the truth – you don't know the person! That's OK, and extending an invitation instead of a direct, in-your-face command is far preferable – especially if your market is predominantly women, who HATE (despise, detest, abhor, resent…) being told what to do.)
If he had written me like that, I'd be all over it. I'd think, "here's a guy who appreciates my taking time out of my day to point out something that would help me make my site better. I appreciate that. And he's not pushy – he's inVITing me to coach with him."
But he didn't, and although I may get the one product he had that has something I can use – no, I will not use him as a coach.
Last week, this very thing happened to me – someone wrote pointing out some spelling errors I had made on one of my sites. I was so glad she did! I felt like the one who ate the blueberry muffin and had blueberries all over her teeth, and no one speaks up! Hello? She did me a favor!
I appreciated it – especially because she told me the same thing I just said – that my credibility went out the door with the 3rd misspelling. I could have lost her, but she took the time to write and tell me.
In a world that is going increasingly faster and where people are sucked for all their energy and time all day long, for her to do that was a real act of kindness. I believe that it's imperative to respond back with kindness and appreciation!
What do you think?