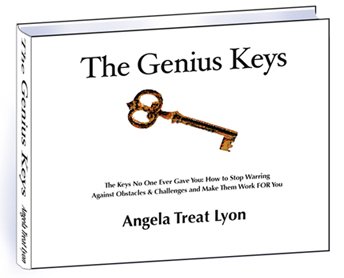 How many times have people asked you to be a part of their books?
I betcha not many.
Authors tend to want to hog all the space – and rightly so – we have a lot to say and don't want anyone else sneaking in!
But I'm thinking a little outside of the box on the illustrated book I'm currently working on: The Genius Keys – The Keys No One Gave You: How to Stop the War Against Obstacles & Challenges and Make Them Work FOR You!
Why do I want YOU in MY book?
1. FIRST:
Because I'm creating a whole bunch of light-hearted, intentional stories that help you not just get over your problems, but make your problems work for you, and help you regain lost power and energy.
So how would it be if you could find an answer to that problem you've been wrestling in The Genius Keys? Here's where to find out how to do that: http://thegeniuskeys.com/be-in-my-book/challenges.html
2. SECOND:


Because this book feels to me like it wants to be more unusual than my other books –
So I'm opening up the back of the book and creating a deep, high-quality resource well where people can find you and your business. I'm calling it The In-Genius Resources section.
I can't serve EVeryone! I want to make it so that, when my readers access the The In-Genius Resources, they can contact you and get your coaching, books, products and services.
This way, you get to help more people, get more clients and make some more dough, they get helped, and I get fantastic resources in my book. It's a win-win-win all the way around.
WHO CAN LIST?
Here's a short list of people who might consider listing their businesses:
Coaches…..Artists…..Musicians
Energy and EFT Practitioners
Health Experts…..Self-Esteem Experts
Authors…..Writers…..Book Mentors
Publishers…..Bloggers…..Marketers
Warrior Forum-ers…..Beauty Product owners
Green Businesses…..Inventors
Garden Experts…..Teachers/Tutors
Relationship Experts…..Explorers
Restaurateurs…..Gallery Owners
Entrepreneurs of all sorts…
Got the idea? Just about anyone who feels like he or she has a genius for something to share with people!
UH-OH….
I bet you're wondering
how much it will cost you to get into The Genius Keys – like, three arms and two legs and your first-born, right?
Nope.
You know how a lot of those big-name authors ask people if they want to co-write a book with them and charge like 1500 to 3500 bucks to do it?
And how people do it because it's massive exposure and positioning with someone they consider an Expert?
Well, how would you like it to be easier on you? What if you only had to create a business listing (I even show you how), rather than writing a whole big chapter?
And what if your investment was only 100 to 375 bucks, depending on which option you choose? (A couple of these options include publicity training – where else can you get your business listed in an evergreen product inexpensively AND get publicity training, too? Not!)
It's almost too easy. To be listed in a product that will get that same massive exposure – being in front of people all over the world? Forever? It's a no-brainer.
If you're balking, remember that The Genius Keys will be in libraries, homes, offices, shops, book stores, military bases, schools, colleges and many other places we can't even imagine right now.
You couldn't even begin to pay for that kind of coverage or publicity for your business or services.
So if you want to be listed in the The In-Genius Resources section in The Genius Keys, I invite you to act now – immediately – because it's first-come-first-serve, and there is only enough space for between 50 and 100, depending on what kinds of levels people choose.
SPIFF IT UP!
And…I suggest that you get on over to your website and get it as updated and spiffy as you can, because we'll be looking at it as soon as we get your application! I only want the best for my readers, and I want YOU and your Genius in MY book!
I invite you to go here right now to find out how to get your business, products and/or services listed in the The In-Genius Resources section of The Genius Keys: http://thegeniuskeys.com/be-in-my-book/how.html
I look forward to having YOU in MY book!
Remember I love you –
aloha –
Angela
p.s. What are you still reading this for? Get going! Get yourself listed in the In-Genius Resources section of The Genius Keys: http://thegeniuskeys.com/be-in-my-book/how.html
p.p.s. Someone asked me today why there's a charge at all for people listing their businesses in The Genius Keys. Well, uhhhh…have you ever done data entry on your computer? Is it fun? Did it take time? Do you put your listing in the Yellow Pages for nothing?
See, either I have to do it, or pay someone to do it. Neither I nor anyone I know likes to work for free. So – admin and tech and data entry are your answers. Unless you'd like to come do it for me for free….
;-)))