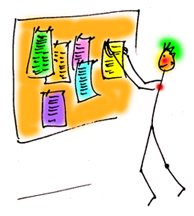 I'm constantly looking for ways to cut down on marketing time so I can get back to the easel.
I just found a cool site called fiverr.com where there are hundreds of people who say they 'do anything for 5 bucks.'
I checked them out & liked what I saw, and hired someone to post my painting project page to their huge list 5 times a day for 4 weeks – all for 5 bucks.
I was surprised, then, when I was given access to a control panel – now I can access it and change the posts as often as I like, and the system tweets automatically, saving me time and energy in my marketing.
And today, not even 24 hours later, I've gotten almost 100 new clicks that I probably wouldn't have gotten before.
Here's where to find fiverr (yes, two rs): http://fiverr.com – and the company I'm using for tweets is:
http://bit.ly/message-broadcaster.
To choose someone to do massive tweeting for you, you do have to be careful – make sure you find out the nature of their list – you don't want your tweets going to some country where they won't care about your work or buy your products or services.
And make sure you read the feedback from customers – there was one I saw I liked, but the feedback stank. So I used someone whose feedback and work sounded good. Watch for poor English, as well.
__________________________________________________________

__________________________________________________________