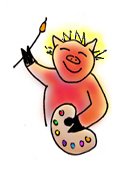 A big part of my expanding my Dream of doing more art is finally being able to make prints available of my work. And it's happening! Now people can get really nice prints of my work on paper, framed or unframed, or on canvas!
Formerly, if anyone wanted a print, I did it myself, printing, packing and shipping it. It was prohibitively expensive – I had to use a special printer (for archival [long-lasting] prints; the archival paper and special inks were outrageously expensive, the packing & shipping was such a hassle…. I eventually said to heck with it because it was such a huge bother.
But now I can do it using a print-on-demand service. I'm so stoked! I told you I'd set up a ton of images from my paintings, pastels and drawings at the print-on-demand site, FineArtAmerica.com.
Well, I wanted to see what the quality of the work was like before I ranted about how great it is, so I ordered some prints just to see.
I got the package in the mail today, and I'm over the moon – I showed the print (it's on canvas) to a friend who is also an artist, and I asked him if he could tell if it was the original or a print. He couldn't tell! It's so much like the original it's almost spooky!
So yes, the quality is fabulous! No streaks, no color diversity where it ought not to be and the colors are perfectly matched; it was mounted on the stretcher bars well; it was packed well and came through shipping just fine. What more could I want!?!
So I put together 21 images you could use for Mother's Day greeting cards and gifts – here's where to find them: http://angelatreat-lyon.artistwebsites.com/art/all/mothers+day+goodies/all
Here are the other galleries: http://angelatreat-lyon.artistwebsites.com
Have fun gazing through the images – and if you get any, I suggest that you do it soon so you might have them before Mother's day or soon thereafter.