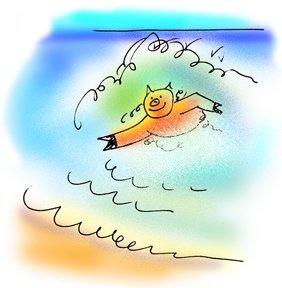 I've been painting all my life, but I'm the first one to admit I have a whole lot to learn. Recently I've been experimenting (tearing out my hair!) with acrylics. I'm used to the pliability and richness of oils, and I'm telling you, acrylics is a whole nother beast.
But I'm slowly getting used to and having more fun with it. I decided I'd try out a portrait of our most famous surfer here in Hawaii. Duke Kahanamoku  was a hero for many, many years, and was instrumental in putting surfing on the map.
He was famous for surfing more than a mile and a quarter on one wave outside in Waikiki, so I put Diamond Head and the wave in the painting, along with a softened allusion to his well-known board.  You can see the Duke HERE.
This week I'm playing with images of outrigger canoe paddlers, splashing water (hard!), philodendron leaves (those huge leaves you could hide under) and other tropical images.
I invite you to bookmark and keep an eye on that site, or friend me on Facebook (just search my name), where my images get automatically updated when I post a new one to the art site. I hope you enjoy my work!
AND – remember to live Audacious, Bodacious, Outrageous and ALIVE! Be Bold and take a Stand for what you believe and love.