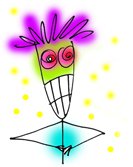 I don't know about you, but thinking about social media makes me feel completely overwhelmed.
You're told you "must have" Twitter, FB, LinkedIn…and you "must have" a FB personal page…and you "must have" a FB biz page…and you "must have" FB ads…
Truthfully? I end up not wanting to lift a finger. And I almost wish the whole thing would crash back into the ground where it came from. There, I said it – hah!
Thankfully, there are people who put the whole mashup into decent order in understandable language.  So, I thought you'd be interested in these two pages of tips I found today.
I think it'd be really smart to bookmark them and refer to them as you build your social media experience – that's what I did. Because, like it or not, overwhelmed or not, it actually is the wave of the future if we want any real success in marketing our businesses. Relationship marketing really is where it's at.
http://mashable.com/2012/02/20/facebook-marketing-small-business/
http://www.socialmediaexaminer.com/13-tools-to-simplify-your-social-media-marketing/
.