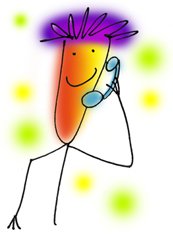 ARE YOU GIVING TELECLASSES YET? Discover How to Give Teleclasses and Attract More Perfect-for-You Clients and Create Products, too! Get the Course here.
If you're not giving teleclasses yet, you're really losing out on one of the best ways to leverage your time, make a huge difference, get more clients and subscribers, make a ton of dough and reach way more than one person at a time with your valuable expertise, wisdom and ideas.
If you're as passionate as I think you are about getting the word out about your message, services and products, you absolutely will lose out on the increased impact you desire – not to mention more income – if you don't utilize teleclasses.
I get countless notes and phone calls from people who want to know "just the basics" of how to do teleclasses. I guess they figure that it's so simple that all they need is the bridge line info and how to do an easy outline, and off they go.
Nupe. T'ain't so. There's just a bit more to it – well, if you want it to be easier on you, and if you want your calls to be good.
It's a funny combination of easy and complex. Yes, it's easy to give a teleclass. But the behind-the-scenes creation and set ups, while also easy if you have the right information, venues and systems, are important to do right and in order – and of course your marketing plan, strategy and tactics are crucial.
You need to know the ins and outs so you can plan what you're doing, develop a road map and follow your steps one by one.
Otherwise you get distracted, out of sequence and frustrated that things take so long and you feel like you're not getting anywhere.
When you have your systems in place, your progression through the sequence of events is smooth and painless – all the way from idea to creation to presenting your teleclass, to marketing and seeing your money roll on in.
Here are just 5 ways you can use your teleclasses:
free audio for signing up on your website's opt-in
freebie teleclasses to introduce your services
freebie teleclasses to attract more clients
for-fee teleclasses for your large groups
do Joint Ventures with expert in courses, summits…
And there are way more….
Any of those options is a gateway you can use to bring people in to your world, give them the info you know they want and need, and make some good money at the same time.
Whether you are a seasoned teleclass leader or a newbie to teleclasses, you'll love the course that came out of what I taught the Round Table Prosperity Group Teleclass Training.
If you want to know how to set your systems up, discover how to get lots of new clients, create mo.ney-making content, lots of ways to market your calls in a non-aggressive manner, I invite you to check this How to Do Teleclasses package out.
I'm allowing a limited number of presales to go through at an outrageously low price, because I want you to be able to have it. For only a short time, I'm taking a full hundred dollars off the 199 that it will end up being.
But don't wait, because the price goes up in one week: Get the Course here! And when you do sign up, you get a surprise that could save you $475!