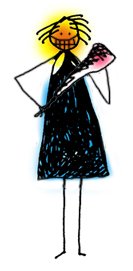 I sometimes have dreams that last all night…or seem like it, anyway – and last night I had one more.
I think the stage started getting set for it at 5:30 am yesterday when a friend in NM called me to warn me about the tsunami. I'm just not a morning person, and I felt 'off' all day. I couldn't seem to get to the mental clarity I'm so used to enjoying. Even as we were all sitting in the school parking lot up on the hill waiting for the all-clear, I was silently tapping on how I felt, but never could seem to get all the way out of the mood.
When I got home, I got a note from a friend who is a psychologist, talking about how she had been in 'right-brain' all day as she and her own family had been up on a hill on the other side of the island. That made sense to me! We were in 'survival' mode, and right brain had prevailed over.
And then last night in my dream – all night, it seemed to me – I saw a from-above, slow-time re-enactment as the Earth shuddered broke itself free from constriction – in Chile and Japan – and how her waters reflected those changes.
What came next surprised me. An enormous Sticky Something appeared right in front of me. Try as I might, I couldn't get through, over, under or around it, and even if I tried backing away from it, it held me like glue.
I felt smothered, angry and frustrated. But as soon as I remembered that I could tap on it and started mentally tapping (in my dream!) it started to do something that really jolted me.
After the Jolt, the Impossible ended up falling away from me. There was a voice at the end, that said, "even the impossible crumbles one day." The dream replayed itself over and over and over again until it felt like someone had etched into my head.
"Even the impossible crumbles one day." I awoke with that echoing through my mind. The huge Sticky Impossible disappeared. I felt as if nothing could stop me, and that I could do anything I wanted.
How would you like to feel as if nothing was impossible, too? You can! Go here:  http://bit.ly/crumble-it
I'd like to show you the Jolt. It's actually quite soft, while being lightning fast, painless and simple. You can incorporate it easily into your own life so you, too, can end up feeling unstoppable, and that nothing is impossible.
I invite you to sample this next week's Round Table Tapping Group teleclass to Crumble the Impossible.
You get a full palette of goodies during the Round Table Tapping Group 3 Sundays a month at 4pm NY time – and this week, if you're feeling slowed down, on an endless plateau, or totally stuck and just can't seem to resolve it, I'm going to show you how to Jolt that softly and surely into empowerment and freedom.
You'll feel like nothing can stop you, just as in my dream. I want you to feel free and empowered to live your own Deep Dream, too!
So whether you feel slowed down, on an endless plateau, or totally stuck, please join me to Crumble the Impossible on SUNDAY, MARCH 7th, from 4 to 5:30pm NY time.
Get the teleclass and audio here: 29.97 http://bit.ly/crumble-it
Join the Round Table Tapping Group – which includes Sunday's Crumble the Impossible: here: $59.97 (3 calls mo.) http://bit.ly/round-table-tap-group
aloha –
Angela
p.s. THANKS AGAIN! I can't tell you how very gratifying it was to get home yesterday and find all your messages – thanks again – you mean so much to me!!