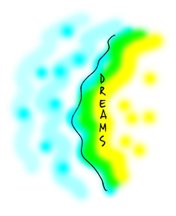 This is a note I sent to someone who wants to get energy practices into the hospitals in his area.
I'm adding it here because I think any new emergy coach could use the same information, inspiration and encouragement.
Here it is:
"Good for you for wanting to get EFT into hospitals! I suggest you follow the work of Deborah Miller, who works with child cancer patients in hospitals in Mexico. I did an interview with her here – http://IDareYouRadio.com – listen to it and get inspired!
I strongly suggest that you consider making the investment in yourself and your coaching expertise to train in the UK with AAMET – http://www.aamet.org – you'll really be able to deliver top-quality work and be certified by the best Europe has to offer. I guarantee you that if you do that it will be much easier on you! You might get in touch with Deborah and ask her how she got in with the hospital there – or maybe I asked her that in our interview – I can't recall.
Another place to get trained really well here in the US is with EFT Master Lindsay Kenny. She has one of the most comprehensive trainings I know of. Check this site out for her services and products: EFT Programs and Training with Lindsay Kenny
I know you're full up with excitement and enthusiasm, so let me say this: you now have EFT for as long as your memory functions. Hopefully that will be for the rest of your life. So slow down, take each step deliberately, and make a plan to do this.
You're going into the business of coaching – you're not 'just' a coach. So take the time to get certified and learn your bedside manner and how to market yourself. Because if you go in to this all flapping arms and woop-tee-doo without any plan, you'll take ten times longer, feel disappointed and discouraged and sad because of avoidable setbacks you might not have faced as a trained coach.
A conventional doc or psychologist trains for years – why would you think you can go in and play around with people's subconscious without live training? And I mean live, person-to-person training, not just watching DVDs.
I want the best for you! So take the time and money and energy to train right. Listen carefully to the marketing advice I give in my newsletters and teleclasses, because it's all focused specifically for entrepreneurs and coaches.
If you need the basics, I wrote two books you'll love, because they are so easy to read while going into depth about EFT, how to use it, why it works, and advanced tapping points. To get them, just go here: http://EFTBooks.com.
Also, here's a great UK-based forum for tappers – http://www.tappingcircle.co.uk/
Please be patient, while at the same time carefully moving full-speed ahead!