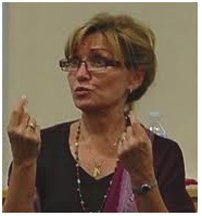 Have you ever had one of those days when you know you're "supposed" to do something you consider important – and you spend all day doing OTHER things instead?
That's what I did today – and I'm glad I did!
A couple of weeks ago, I was very fortunate to meet Connie Russert, Psychic, Author of Channeled Messages from A Parallel Universe, who was a very straight, left-brained computer professional and then a college professor who worked with deaf people.
She wrote me and asked if I would allow her to use some of the images from my collection of my artwork at http://Lyon-Art.com in the book she was putting together with some of the channeling she was doing.
After looking at the quality of work she was doing, I said "Yeah!" and even offered to create the pdf for her (us!). So, that's what I spent this afternoon doing. Good fun.
I have no idea when it will be ready, but you can bet it's going to be a beaut! You'll be among the very first to know when it comes out.
AND…in case you wonder about this Connie Russert person, and why I'm so stoked to know her, I thought you'd like to hear her amazing story, so I interviewed her for the Daring Dreamers Showcase.
I invite you to listen in and find out how a very straight, left-brained woman who was once a computer pro, and later on worked at a university as an advocate for deaf people…who was so skeptical it took her five whole years before she believed her channeling was for real…came to be a spiritual channel.
http://IDareYouRadio.com/Connie-Russert-Psychic-Author
Not only does she now channel full-time, but she also channels in ASL on Skype with deaf people! I'd say her transformation was pretty awesome. Going from a nice, comfy university job to an independent channeler? Whew!
WANT TO CHANNEL, TOO? If you have had inklings that you might be a channel, or want to try channeling, you'll want to listen in. http://IDareYouRadio.com/Connie-Russert-Psychic-Author
SUGGESTED READING: Pick up Connie's Channeled Messages from A Parallel Universe. I think you'll enjoy it. here:  http://ToolsforTransformation.com
You also might want to look up this book: Opening to Channeling, by Sanaya Roman and Duane Packer. This is the very same book I read years ago when I was taught now to channel – it's a keeper book, not one of those ones you read and then pass on to the library.