2022 ART CALENDARS & POSTER
The new calendars are ready – I just got my copies in the mail!
Woohoo! They look great – I'm so pleased!
WHAT YOU GET:
• A beautiful wall-hanging calendar!
• It measures 8.5″x 6.5″ folded
• It measures 8.5″x13″ when hanging on the wall unfolded.
• It is printed on delicious, thick, durable, semi-glossy paper in rich black inks.
• A free 8.5″x8.5″ printable poster of Sun Boat, November's image! (value $89.99)
• You can get more then one – give them as gifts!
AND A FREEBIE!
You also get a freebie downloadable, printable pdf poster of SUN BOAT, one of the images from the calendar, that you can print out and frame for your home or office.
HERE'S WHAT TO DO:
Choose which version you want:
---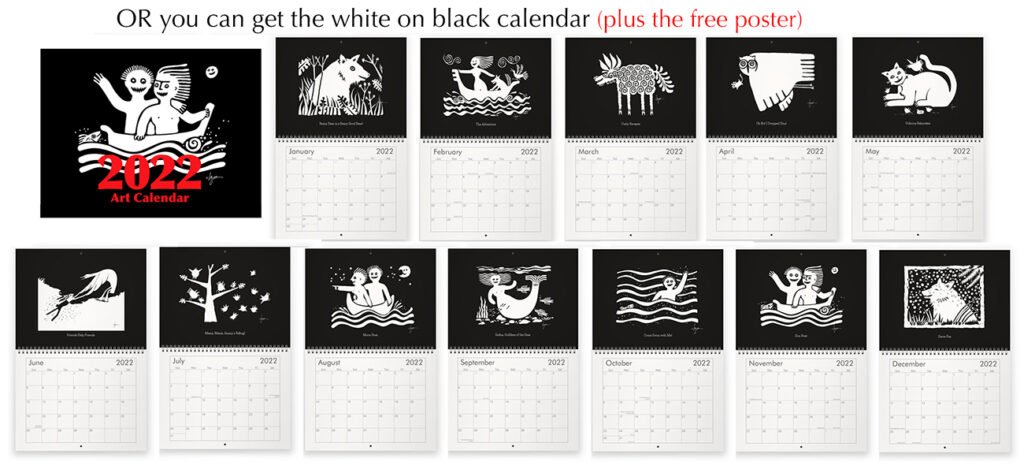 ---
When you purchase, GO SLOW so you don't miss out on getting your free print after your purchase goes through!
You will be directed to a download page – don't close your purchase window fast, or you will miss it! I also send you an email, so if you do miss the download page, you get the link in the email.
If you still don't see it, let me know so I can send it to you, personally.
SHIPPING: FREE shipping within the USA ONLY.
OUTSIDE THE US: Right now, I am not mailing anything out of the US. I'll make the calendars available to outside the US as soon as the shipping craziness is over!
DO THIS:

Make absolute sure you include in your purchase info the following details so I can have your calendar mailed to you:
• YOUR NAME
• MAILING ADDRESS
• PHONE NUMBER
• EMAIL ADDRESS
NOTE: Why do I need your info? So I can send you your calendar and poster, and just in case the shippers ask for clarification, and in case I have to contact you to make sure things go right.
AGREEMENT: By purchasing this calendar/poster package, you agree never to print copies of the poster to sell anywhere in any way. You may print up to ten copies to give as gifts to friends and family ONLY. Thanks so much for respecting my copyrights.
I hope you enjoy your new calendar and poster!
aloha,
Angela
p.s. CORRECTION: Oops! On the image of the black on white calendar, it says the poster is 10″x10″ – it is actually 8.5″x8.5″ – value $89.99.