My friend "Benji," a coloring book artist, told me that, after discussing with her friend an idea that she was working on, that same friend went off and created and published the very same kind of work.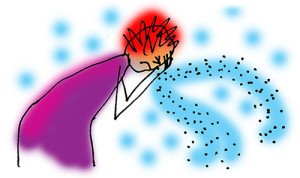 "What really bugged me was not just that she stole my idea, but that she posted it as her own idea, without giving any mention or credit to me!"
Benji said that she felt "like someone gut-kicked" her. Totally betrayed. "Now I'm thinking, how can I ever trust her again?"
WHAT to DO?
After we took a bit to process and defuse her feelings about this incident, Benji's next question was: should you share your ideas with people when you get the idea, or while you're in process? Or do you keep your ideas to yourself until they're signed and sealed?